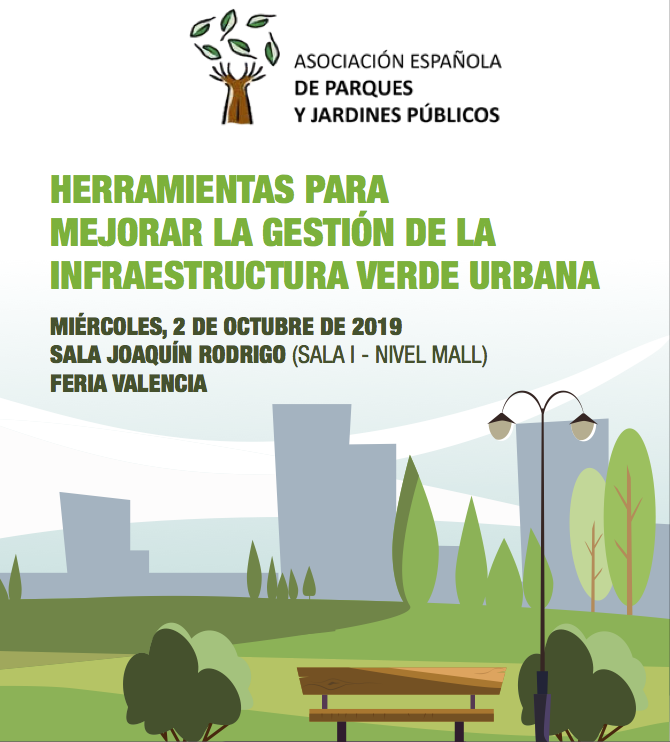 AEPJP takes Iberflora 2019 a day dedicated to Green Infrastructure
Next 2 de octubre tenéis una cita en Iberflora 2019 with the day: "Tools to improve the management of Urban Green Infrastructure". A very special event for the whole sector dedicated to the administration and planning of urban green spaces.
Throughout this quote, se fomentará y se pondrá a disposición de todos los asistentes, nuevas y eficaces herramientas de gestión para un desarrollo de la Infraestructura verde, tanto en su mantenimiento, creación y conservación; eficaz y óptimo.
El desarrollo de la programación comienza con la Inauguración de la jornada por parte del presidente de AEPJP, Francisco Bergua y el presidente de Iberflora, Oscar Calabuig. Seguidamente, tendrá lugar la primera ponencia de: "La Sanidad Vegetal en la ciudad; el reto", una interesante presentación de Ana Pérez Adell, coordinadora de la Comisión de Sanidad Vegetal de AEPJP y Juan Barriuso, Doctor en Ciencias Biológicas de la Universidad de Zaragoza, en una ponencia que profundizará en los retos que supone la gestión de la sanidad vegetal en las ciudades.
La segunda presentación se centrará en el excepcional galardón "Green Flag Award" que, desde este año, y por primera vez, podrá ser otorgado a proyectos de infraestructura verde en nuestro país. Presenta Gabino Carballo, técnico de la Dirección de Conservación de Parques y Jardines de Barcelona.
La última ponencia será: "Guía de Infraestructura verde urbana", dirigida por el Doctor Ingeniero Agrónomo y Doctor Arquitecto del Paisaje, además de vocal de AEPJP, Pedro Calaza. Durante esta presentación, se expondrá información técnica para el desarrollo de proyectos de diseño e implantación de la infraestructura verde.
Para finalizar, se llevará acabo un debate-coloquio a modo de resumen y conclusiones de los temas tratados anteriormente. Involved: Ana Pérez Adell, Juan Barriuso, Gabino Carballo, Pedro Calaza, José Luis Rodriguez Gamo, Eduardo Peña, Juan Carlos Sanchis. Modera Jose Luis García-Seijas.
Puedes inscribirte en la jornada a través de la web oficial de AEPJP.
Consulta aquí el program of the Conference.