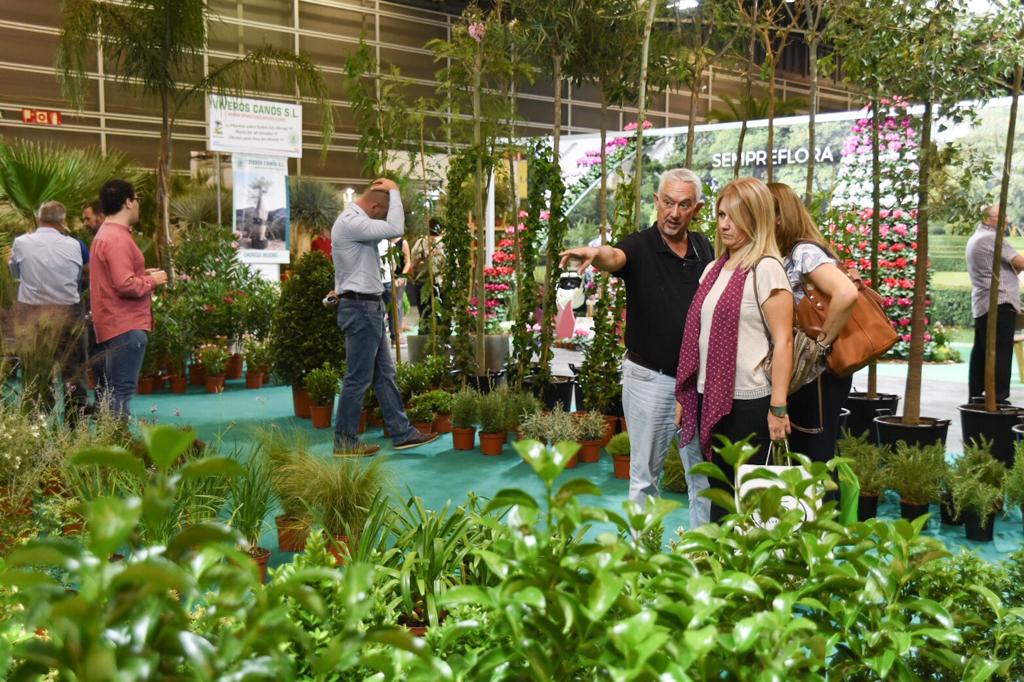 Foreign presence in Iberflora increases 2019
The international plant and flower fair, landscaping, technology and bricojardín is visited by international buyers from a dozen countries, including Qatar, Morocco, Portugal, Belgium, Saudi Arabia, Holland, Ivory Coast and France.
The second day has hosted conferences, training activities and floral demonstrations.
Iberflora celebró ayer su segunda jornada con los pabellones llenos y muchas jornadas formativas, dirigidas a los profesionales del sector. Cabe destacar la visita de compradores internacionales que han llegado invitados por Iberflora, la Cámara de Valencia y el Ivace y que han conocido la oferta expuesta en la Feria Internacional de Planta y Flor, Landscaping, Technology and DIY Garden.
Los compradores han llegado de Qatar, Morocco, Portugal, Belgium, Saudi Arabia, Holland, Ivory Coast and France, entre otros países y han podido conocer al medio millar de firmas que están exponiendo en Iberflora.
Con esta acción comercial se persigue reforzar el carácter internacional de Iberflora, la feria más importante del sector verde en España y referente en Europa, así como facilitar a las empresas valencianas contactos comerciales con potencial de compra. Se espera que visiten la feria unos 800 profesionales extranjeros y más de 7.000 visitantes nacionales.
Jornadas formativas para profesionales
In the same way, durante la jornada de hoy han continuado las ponencias en el Ágora Verde, que ha contado con la participación sobre el escenario del prestigioso arquitecto Ramón Esteve. Ha recorrido varios proyectos junto al paisajista Gustavo Marina y han explicado la conexión entre arquitectura y paisaje. También ha participado la Spanish Federation of companies of gardening, que ha reflexionado sobre el papel del verde urbano en la salud de la ciudadanía. La jornada la ha cerrado la coach Catalina Davis, que ha ofrecido una conferencia sobre motivación y éxito en las pymes de jardinería.
In Iberflora Labs se han dedicado las conferencias a las experiencias prácticas, de la mano de vivero que ya han puesto en marcha iniciativas con productos bio. For his part, la Ronda de Floristas ha realizado las dos pruebas restantes de la Copa Iberflora de Arte Floral: las composiciones nupciales y la decoración de grandes espacios. In the same way, ha tenido lugar el desfile de novias con las composiciones y los vestidos de novia cedidos por la joven diseñadora valenciana Verónica Jiménez, winner of the latest edition of the Fashion Talent Award of the Fiesta y Boda fair.
More complete offer
Iberflora is held, first, just two contests with which it shares synergies around the new configuration of cities: greener and more sustainable. So, the quote coincides with Ecofira – environmental salon- and Efiaqua, fair for the efficient management of water resources.
All three events add up to an offer of 488 firmas expositoras y abarcan los cuatro pabellones del Nivel 3 Feria Valencia, that is, over 45000 square metres of exhibition area.