Valencia, 5 October 2018.- The strength of the plant and the Spanish flower has been to see one more year in Iberflora. Buyers of 21 countries have contributed to the success of an exhibition event at the service of the internationalization of companies in the sector and which today closes its doors.
The President of the Organizing Committee for Iberflora, Oscar Calabuig, It has highlighted the value that had Iberflora sector during the years of the crisis. "It was a moment in which the company", before the fall of the domestic market, looked for their future in the internationalization. and, There, Iberflora was the linchpin of these years".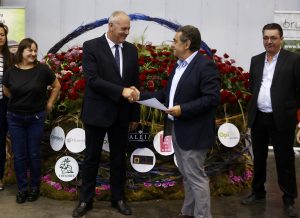 Calabuig highlights that in this edition the buyers of France had a special presence, Germany, Portugal, Belgium and Morocco. On this last country, the President of Iberflora ensures to be one of the markets of the future "since a whole series of projects that require exemplary plants are being developed there".
The impact of Iberflora for the sector, Calabuig highlights that it transcends the own celebration of the fair. "We know that it happens - says- many foreign visitors to arrive even three days prior to the event on flights to Malaga. And that thence go visiting all the nurseries to Iberflora". Calabuig ensures that this journey is also in reverse and that most of the buyers in the South of France, "that you come to Iberflora drive, they do the same".
Forecast of growth of the 15% in visitors
In this scenario, the President of Iberflora ahead of interim results from the event. "We are estimating around a" 15% increase of visitors for this Edition". "An exceptional result, that it has been appreciated by the exhibitor", concludes.
By his side, Miguel Bixquert, director of Iberflora, It ensures that the presence of technology for the sector will be strengthened for next year. "It is a fundamental complement for Iberflora business", reiterates. Moreover, explains that it is you are working with the Embassy of the Netherlands for that in the edition of 2019 the country has a large exhibition space.