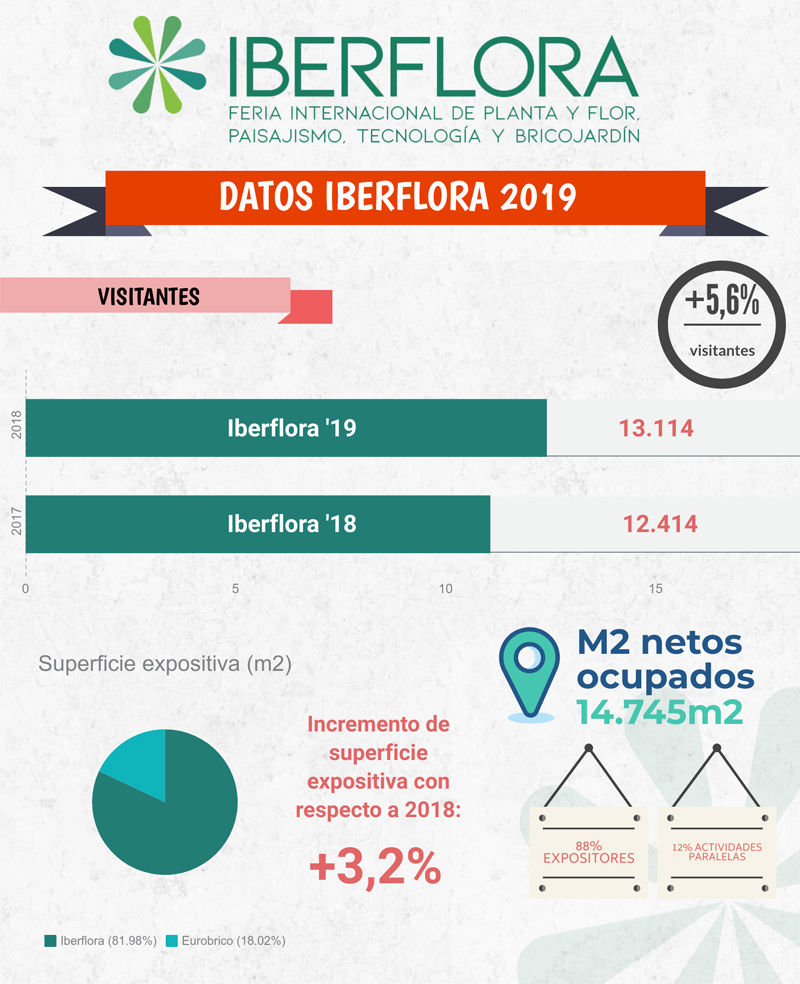 The data from the most international edition of Iberflora
The last edition of Iberflora nos dejó, plus great sensations, some números que nos muestran la evolución y la internacionalización del certamen.
De entre estas cifras destacamos una mayor afluencia de visitantes, with an increase of the 5,6%, pasando of the 12.414 visits from 2018 to 13.114 in 2019.
Visitantes profesionales
Otro de los aspectos más destacables de Iberflora 2019 ha sido la afluencia de visitantes internacionales, con visitantes procedentes de una gran variedad de países: Germany, Andorra, Antigua and Barbuda, Antillas, Holland, Saudi Arabia, Algeria, Argentina, Australia, Austria, Belgium, Bolivia, Bulgaria, Czech Republic, Chile, China, Colombia, Croatia, Denmark, República Dominicana, Ecuador, Egipto, Emiratos Árabes, USA, France, Gambia, Ghana, Gibraltar, Guadalupe, India, Irak, Irán, Israel, Italy, Japan, Jordan, Latvia, Lebanon, Luxembourg, Malta, Morocco, Mauritania, Mónaco, Nigeria, Noruega, Omán, Netherlands, Panamá, Poland, Portugal, Qatar, UK, Romania, Russia, Senegal, Sudán, Switzerland, Togo, Turkey, Ucrania y Venezuela.
The TOP 10 de visitantes internacionales proceden de:
Portugal.
France.
Netherlands.
Italy.
Morocco.
UK.
Belgium.
Germany.
Algeria.
Denmark.
Superficie expositiva
Al respecto de la superficie expositiva neta ocupada por Iberflora, cabe destacar el incremento de la misma en un 3,2%, ocupando 14.745m2, de entre los cuales, a 88,8% estuvo ocupado por expositores y patrocinadores y el resto por las zonas de demostraciones y conferencias que acogieron a un gran número de profesionales.
Exhibitors
The number of firmas expositoras alcanzó la cifra de 470, experimentando un aumento del 13% de expositores internacionales.
The expositores internacionales proceden de 17 países distintos: Germany, Australia, Belgium, USA, Finland, France, Hungary, Italy, Mexico, Netherlands, Poland, Portugal, UK, Russia, Sri Lanka, Suecia y Turquía.
Conferencias y zonas Demo
En este sentido Iberflora también ha dado un paso en la internacionalización del certamen, pues se han aumentado en estas zonas el número de conferenciantes internacionales, con la participación en algunas de ellas de representantes del ELCA (European Landscape Contractors Association), con la participación del fundador de EN QUÊTE D'ARBRES, una red de arboristas al servicio de los científicos, en las Jornadas de Infraestructura Verde; el encuentro con Svetlana Lunin en la Ronda de Floristas y la participación de un jurado internacional en la Copa Iberflora de Arte Floral. También contamos con la participación de la firma francesa BOTANIC en las jornadas de Iberflora Labs.