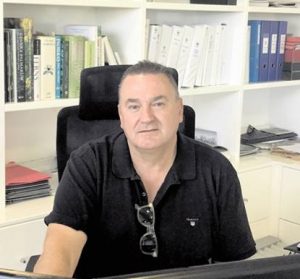 The impact, mainly in Tenerife, the work of the landscape architect Fernando Ascanio friend is clearly recognizable, marked the island's interventions in which surprises by the use of different volcanic materials ordered provisions, clean profiles and increasingly tuned drawing, marcando un fuerte contraste entre la violencia eruptiva de las lavas, picones y sahorras y la serenidad y limpieza de la línea y la armonía cromática de sus creaciones.
Reconocida y galardonada es su notable aportación a la mejora de los accesos de la red de carreteras insulares, con muy buena acogida entre las población, pues el equilibrio de sus composiciones añade orden, limpieza, seguridad y consigue dar valor estético y singularidad a cada enclave, con atractivos taludes, rotondas, puentes y demás estructuras, perfectamente perfiladas y coloreadas a base de los blancos, rojos, negros y verdes del paisaje canario.
La empresa Zona Verde, creada en 1992, ofrece servicios integrales para el desarrollo de jardines e infraestructuras verdes, tanto públicas como privadas, en todo el archipiélago canario. Cuenta actualmente con un equipo de más de 50 personas que, sea desde el estudio de proyectos, desde el vivero o el jardín, ponen su entera dedicación al trabajo y pasión por el paisaje al servicio de clientes y ciudadanía.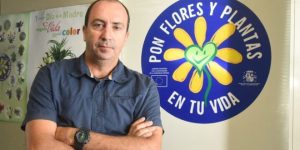 Hablamos con Antonio López, director-gerente de ASOCAN, asociación fundada en 1977 y que actualmente representa, on the one hand, rd to 85% de los cosecheros-exportadores de flor cortada, planta ornamental y esquejes de Canarias; por otro, from 2009, a más del 75% de las empresas de jardinería.
¿Qué oportunidades ven en participar en el I Premio Nacional de Jardinería FEEJ-Iberflora

?

Entendemos que aquí hay que diferenciar dos ámbitos, uno de jardinería en el cual para las empresas canarias no vemos mucho recorrido ya que trabajar fuera de las islas siempre es más complicado, y otro de agricultura, el cual siempre es más interesante para intentar hacer ver la magnífica adaptación de nuestras plantas a cualquier proyecto de jardinería.
What motivations have to participate, seem them interesting?
Entendemos que cualquier evento de este tipo es siempre interesante, promover lo verde, educar a nuestra sociedad de lo importante de la jardinería para nuestra calidad de vida y salud, es siempre interesante, y este tipo de proyecto ayudan a conseguir estos objetivos los cuales son nuestra principal motivación.
What difficulties raises the creation of an ephemeral garden for the occasion, Iberflora 2019?
In our case, es la disposición del material estructural el cual llevaremos desde Canarias. No se trata de poner plantas nada más, se trata de transmitir una idea en un limitado espacio, and for this, debemos de traernos la base desde las islas.
The selected topic, Health and garden, How led it to the project?
Esto se lo dejo al autor ya que es su criatura jajaja, sin dar muchos detalles para sorprender.
Are there any reference to the landscape values of the region in the project?
Sí por supuesto, parte de ella es una referencia a las islas, pero al mismo tiempo, perfectamente extrapolable a cualquier otra región española.