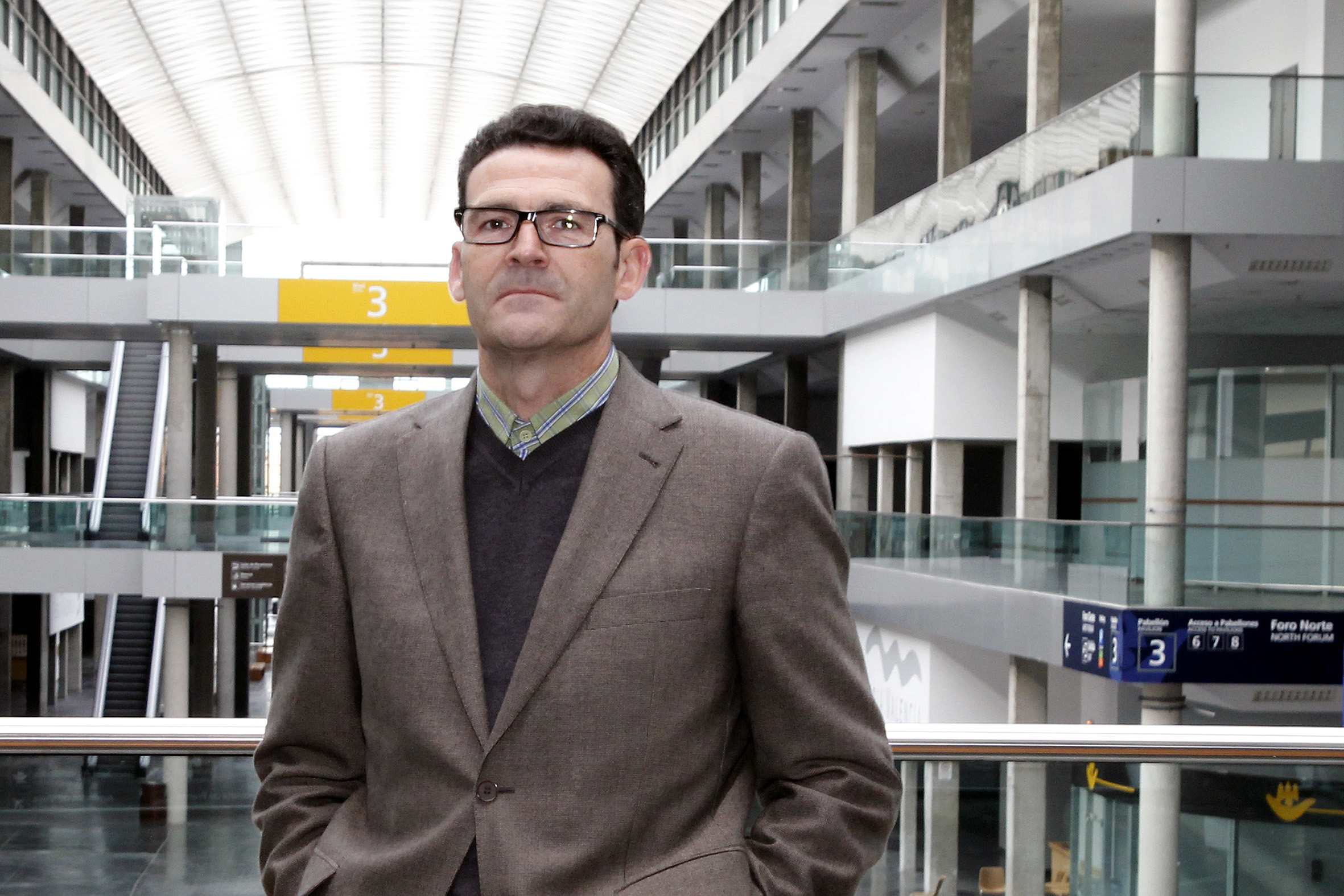 Miguel Bixquert, director of Iberflora: We want to continue to be the common home of the Green Sector, others at least 46 years
The web portal Guiaverde.com, meeting point between professionals in the Green Sector, He has interviewed Miguel Bixquert, Director of Iberflora, interview which we are echo and the Bixquert it has revealed some of the keys to the next edition of the fair, which will take place from 3 rd to 5 October of 2018 Feria Valencia.
Iberflora , on this occasion be held in conjunction with Eurobrico, the international fair of DIY at its tenth edition, It presents a 46th Edition with great expectations: incorporation of new sectors, multitude of parallel activities and a projected number of exhibitors and visitors increase.
What awaits this edition of Iberflora team, also it presents itself with a call for joint with Eurobrico?
This year we celebrate the Edition number 46, and no competition around the world has organized uninterruptedly so many editions.
Once surpassed the stage so hard that it meant the period of 2009 rd to 2014, each edition is a new challenge for us. The ultimate goal is to be the meeting point for the green sector, an annual event where supply and demand come together, where to discuss and analyze the issues that unite them and, first and foremost, strengthen the feeling of belonging to the sector, a sector which increasingly incorporated new actors and new channels, but you wish that the players continue to be people.
Eurobrico match further reinforces the idea of the common home of the green sector, Since it gives us greater choice and greater ability to call with the presence of the great distribution.
Do waiting Iberflora organizing Committee exceed numbers from the last edition in terms of exhibitors and trade visitors?
Figures for last year will be overcome without a doubt, Since the Eurobrico match already guarantees it.
We hope to grow on the 12-14% with the consolidation of those sectors that year after year they grow up as the landscaping, Mulches, the florist, the furniture and exterior decoration and production technology.
With respect to visitors, we have created a team of loyalty which aims to identify all gardening centers and florists from Spain, summon the institutional client of gardening and landscaping (City councils, County Councils, works and maintenance companies) and finally be incorporating to the new channels ( online sale, Bazaar, Wedding planners…).
What news will there be in the expository offer of Iberflora 2018?
The expositive supply increases each year. We continue to see a positive evolution in the traditional sectors, which is a significant, because there were nurseries and breeders vegetables that were exposed during the crisis and have expressed their desire to return.
But is also growing the presence of groups such as companies specializing in facades and covered vegetable, technology (greenhouses, tables crop, irrigation, air conditioning), the lounge of the tree that grows each year with new exhibitors… and I anticipate in addition a first: We are negotiating with the sector Grow and we will convene a day to its suppliers.
What activities you highlights of which will take place in the next edition? Why?
The fairs are increasingly a source of information. As parallel activities we will have one more year with INSPIRATIO as cultural expression with discussion forum, workshops and shows trends; the AGORA green and his landscaping days as a meeting point for business and professional gardening and landscaping; the CIAF, Iberflora Cup of Floral Art, with new formats of participation and great prizes; and with the Conference on plant health.
But above all, We will celebrate one more year the Green night, THE GREAT FEAST OF THE GARDENS, with a more fun format, performances and awards. This year we want to overcome the 500 attendees.
Be held parallel activity related to the bricojardín in this issue taking advantage of the joint with Eurobrico call?
We are looking at a joint proposal of both fairs that it combines time libre+bricolaje/garden and in which the actor is "the family".
Ideas to promote are outdoor gardening-related activities, urban gardens, meet with friends and eating healthy.
The green sector has experienced a gradual recovery after the economic crisis, Do you think that this recovery will be reflected in the next edition? In what sense?
The fairs are the reflection and the thermometer in a sector, and the situation is very clear in a fair. When businesses are going well and earn money, do not care to invest in promotion, in communication and in all sorts of attention to clients.
Este cambio se viene produciendo desde hace tres ediciones. Se ve claramente en el tamaño, la presentación, la decoración de los stands, el apoyo mediante premios o patrocinios a diversas actividades y los regalos a clientes y visitantes.
En la pasada edición de Expogarden

,

la feria de los centros de jardinería asociados a AECJ

,

se presentó el nuevo certamen Garden

&

Flower Attraction

,

impulsada por IFEMA

,

que se celebrará unas semanas después de Iberflora

.

¿Crees que esta nueva iniciativa puede afectar de algún modo al posicionamiento y los resultados de Iberflora

?

Este es un tema que se viene barajando desde hace muchos años y que parecía aparcado durante la crisis. Feria Valencia tenía firmado un convenio de colaboración con Fepex para 5 editions (2013-17) and at the moment we are negotiating renewal for others 5 years.

It is true that surprises us make public in an act of the AECJ, because says that it is a project aimed at the large European distribution, It is logically a commercial rival of gardening centres.

On the other hand, the supply of fruits and vegetables has nothing to do with the ornamental plant. May agree on any large chain, but purchasers are different and the commercial rhythms also.

On the other hand, the food industry is so powerful and has so many means for promoting the supply of ornamental plant would be diluted and lose prominence. All this not to mention the issue costs, Fruit Attraction prices are almost double the.

So a new call could mean the breakdown of the sector, with the consequences that this entails. We only have to look at what has happened with the once powerful trade fairs in Padua and Angers.

And then consider that in addition to the producers of plant, Iberflora brings together other companies (gardening and landscaping, pots, tools, machinery, outdoor furniture, artificial grass, BBQs…) What we say to these companies??

I like to think that sanity will be imposed to the end and that the sector as a whole will continue betting for Iberflora as its fair reference project. We want to continue to be the common home of the Green Sector, others at least 46 years.