Paysalia, the only French hall aimed at the landscaping sector, opened its doors in the city of Lyon 3 rd to 5 December, gathering professionals in the sector with the aim of exchanging experiences and learning about the latest trends in the profession.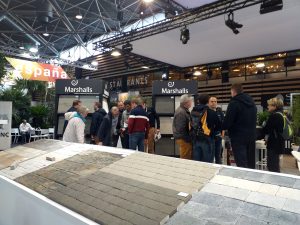 The Iberflora team was present in Lyon, where they started expected international promotion for Iberflora 2020. Contacted exhibitors, exporters and distributors, among others are presented, to offer them the program aimed at international buyers, a very attractive initiative thanks to its many advantages, such as free hotel nights, hotel-fair-hotel transfer, exclusive access to the buyer's club or lunch at Feria Valencia, among other ones .
Iberflora will also enhance on this occasion the international promotion through its presence in the main events of the Green Sector in Europe and through meetings and rounds of contacts. Paysalia has been in this case the event chosen to start the campaign, but the Iberflora team will continue to travel to promote a growing campaign for the contest, held annually at Feria Valencia. The next event Iberflora will attend will be to IPM (Essen, Germany), one of the world's most important fairs for the green sector. As well you will travel to Milan in January to visit My Plant & Garden.
The Iberflora edition is expected to 2020 continue with its exponential growth. It will be held Valencia in Valencia 6 rd to 8 October of 2020 and will coincide with Eurobrico, International DIY Fair, and with Ecofira, the International Environmental Solutions Competition. Three days in which professionals from all walks of time in the sector will discover trends in gardening, landscaping, florist, technology and bricojardín in an ideal and enriching business environment.