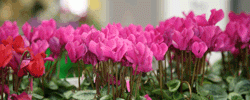 IBERFLORA JOINS CELEBRATION OF "INTERNATIONAL DAY OF THE ALLURE OF PLANTS"
Under the umbrella of the European Organization for Plant Science (EPSO), date today, 18 May 2012, will be remembered for posterity as the first "International Day of Fascination of Plants". A festival commemorating the value possessed by plants to humans, and they wanted to join Iberflora from his unwavering commitment to all actions in which the green sector is positioned as Leading Actor.
The objective of the "International Day of Fascination of Plants" is to get as many people around the world will be amazed by plants and their importance to agriculture, sustainable food production, la horticultura, or forests. In the same way, another key message of this important date is to vindicate the role of plants in environmental conservation.
And for this, scientific institutions related to plants, universities, botanical gardens and museums, with farms and businesses, open its doors today, full of activities and events for the whole family and related plants. Activities that take place simultaneously at about 40 countries and, specifically in Spain, will be developed in the format of workshops for children and adults to learn what they stand for plants and flowers in our daily; photo contests on the plant world; Expressionist murals of plants; seminars BOUT secret plant, the, among other proposals, Routes through the botanical gardens.