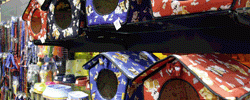 And IBERFLORA AEDPAC UNITE TO STRENGTHEN THE PROMOTION OF PETS SECTOR
Thanks to the collaboration of the Spanish Association of Distributors of Products for Pets, the 41st edition of Iberflora become showcase the latest industry petcare.
Given the sustained and steady growth has starred in Spain in recent years the industry dedicated to the manufacture of products for pets, Iberflora reinforces 2012 its offer with an increase in exhibition space dedicated to this business segment. And what does the hand, the AEDPAC- Spanish Association of Distributors of Products for Pets.
Under the umbrella of the association, Work is to be represented teach specialized in the petcare industry in the next edition of the contest, from 3 rd to 5 October of 2012; and to promote training in this field of activity, whose offer is increasingly present in garden centers, nurseries and agrostores.
Moreover, the living universe become pets in a leisure each day has more followers, and responds to this new way of thinking that promotes this year Iberflora under the concept of "vitamin".
Ultimately, escape is asphalt, noise and pollution around us, especially in urban environments- and carried away by the beauty of nature, plants and flowers and, as, the love of the animals with whom we share our daily.