Just a few weeks from the start of Iberflora, the organizing team continues to finalize the details of the contest, between them, one of the highlights, The Night's Gala + Green".
This time, and with the aim of give garden centres a special prominence during the event, the Spanish Association of Centres of Gardening (AECJ) co-organizes the gala together with Iberflora, a gala that changes its day of celebration, because this year will be held on Tuesday, 1 October, the first day of the contest.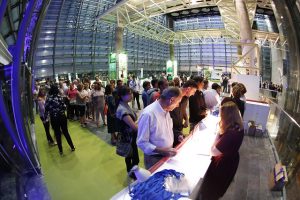 Thereby, starting at 19:30, and coinciding with the closure of the pavilions in which Iberflora takes place, the doors of the Forum Center will open to receive over 700 guests and exhibitors who hope to have a fun time on a daily basis after the first day of the fair.
The guest can expect a complete Catering, live music and many more surprises that will happen during the event.
As a new, guests will be able to collect their accreditation for the gala throughout the first day fair stand at the stand of the Spanish Association of Gardening Centres. Guests must first request their invitation in order to pick it up at the fair on Tuesday 1 October. For his part, exhibitors will receive their previously requested ticket to Iberflora, on his stand all day long.
Accreditations, as in previous editions, will have two distinct and distinguishable formats: one for gardening centers and outlets and one for suppliers, with the aim of strengthening ties between the two segments.
Remember, this year the fair is held tuesday through Thursday. We're waiting for you.!