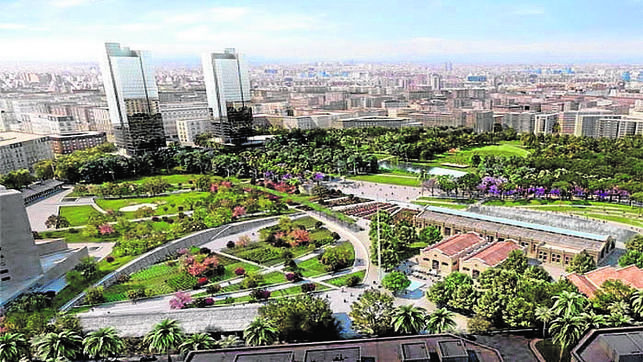 The spectacular figures of the Central Park in Valencia, future lung of the city of the Turia
It has been brewing since the year 2011, the works have suffered all kinds of delays for endless reasons (bureaucracy, permissions, policy, sustainability criteria such as decontamination of hydrocarbons from the railway industry...), but the Central Park of Valencia is already taking shape.
The first phase of the Park, of 110.826 square meter (on a 40% What will be entirely in the future), already is on a roll, and is that the construction of the "garden of the" 100.000 plants" (in its first phase alone) in one of the oldest areas of the city of the Turia is a pharaonic work which will be a European benchmark for urban green.
Some environments are already almost finished, but in other areas it is still much to do: sources, channels, children's area, a private garden with ornamental garden plants, an area of leisure for all ages, an area for the socialization of pets, streetlights, tree grates, pergolas and ultimately, a first phase which will be planted 100.000 plants and some 1.000 trees, a green wall six meters height on which will be incorporated 1.300 Planters.
They are also installed 28 infiltration wells constructed in order to recover rain water and return it to the water table.
In the following phases is will continue expanding the Park to reach the 230.000 square meter, When grow stronger will as the green lung of the city and together with the old bed of the River Turia and the gardens of the Royal (Nurseries) they will become the city of Valencia a city with lots of green oasis to residents and tourists who visit each year mass.
Fertilizers Conde It has been the provider of the compost plant of the joint venture estate Parc Central de Valencia, compost that is used for all the Green Park area taking into account the needs of shrubs and trees.
In the same way, Gardening Villanueva It was the company responsible for providing plant, woodland and Bush to the Central Park of Valencia, participating in the filling and distribution of the pots in the garden area.
It is expected that the first phase of the Central Park to open this year, with a later intention of burying waterways and rail flow in the city total change, optimizing it and adapting it to European standard, one of the most ancient aspirations of the city.
A monumental work away from the controversy and politics, in which are involved the Ministry of public works, the Generalitat Valenciana and the city of Valencia and that if you have a protagonist, This is the American landscape architect Kathryn Gustafson, whose concept of green lung is materialising slowly and which can already enjoy this part 2018.