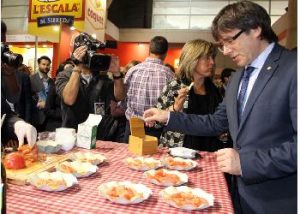 For those responsible for Fito y Gava, this is a bet on a product that "will revolutionize the tomato market".
The Gava Group Company, specializing in the cultivation, distribution and fruit and vegetable export, Innoval presented in the Hall of Food Fair, which it was held in Barcelona 25 rd to 28 of April, his tomate Monterosa, grown in soils of Cabo de Gata, Almería. It is a new variety whose uniqueness is, above all, its extraordinary traditional flavor in winter crops. Monterosa able to recover the taste of traditional Mediterranean tomato, not only in summer, but also in crops from December to June. Monterosa there after eight years of research in the development of its seed under a recovery program flavor, in charge of the company Semillas Fito. It is a cross between tomatoes Pera Girona, with D.O, and, a classic Italian garden, the Beefsteak Genoveso. The result achieved with Moterosa provides, among other organoleptic characteristics, a feeling sweet palate with fruity finish and absent acidity.
The group responsible for Gava, fruit and vegetable company long experience, They explain that "we have opted for the Monterosa because we are convinced that it will revolutionize the winter tomato market where taste quality is a pending", explain. Gava Group grown exclusively in Spain (except Catalunya) and Portugal Monterosa on land located in Cabo de Gata (Almería) optimal for this new variety. Monterosa also distributes in Spain and Europe.
A unique organoleptic characteristics of taste, aroma herbaceous, and texture, in tomato Monterosa further binds its external appearance does not go unnoticed. It has a lush and attractive presence. It is a large tomato, Asymmetric and acostillado; with velvety skin and very showy sepals. Its color is, once ripe, an intense pink, nice and bright easily identifiable. Although thin skin, resistance and good preservation favors export.
Grown by Gava Group.
The company currently has Gava Grup 27 hectares of agricultural land in Cabo de Gata, Almería, exclusively to the cultivation of Monterosa with an annual harvest 3 million kg.
Gava responsible for Grup "are optimal land for cultivation. Monterosa tomato is not easy to cultivate. Production and management of this tomato are complex because of its final skin, and, among others are presented, factors requires very rich waters in salts and minerals ".
Monterosa project, excellence from seed to harvest
Grup Gava experience in horticulture has helped develop the project jointly with Monterosa Semillas Fitó who, after a recovery of flavor and genetic improvement of traditional varieties, required a partner able to offer knowledge in the cultivation of tomato and appropriate to the needs of this unique fruit lands. Gava Grup offers excellence required in the cultivation process, collection and strict selection of the product being distributed. "It is a variety which by its nature is very demanding. Thus, We try to ensure even the aftermarket and follow the treatment you receive the product upon arrival at point of sale, to the extent that is possible for us ", explain in Gava Group.
Gava Grup started the first tests of tomato Monterosa marketing in September 2015. The host of this premium tomato is proving excellent, both the domestic market and export to European countries like France and Poland, among others are presented. Gava Group, through its company KopAgro, expand the area under cultivation to 68 hectares in the next season will start in September with a production of more than 7 million kg.
Monterosa, Pera heir of Girona and Costoluto Genoveso
Monterosa tomato seed is the result of eight years of research the company Semillas Fito, leader in. It is a cross between two traditional tomatoes of a high quality and highly appreciated, both the market and the haute cuisine: Pera Girona tomato and Costoluto Genoveso.
Pear Tomato Girona, Designation of Origin, It is one of the traditional Catalan tomato varieties from the orchards of Empordà. Its origin is in Olot. It is thin-skinned fleshy, ideal to be consumed fresh. It is compact and without seeds. It is a delicate variety that needs many and continuous care . Low acidity, together with its sweetness make it ideal, once ripe, for making sauces and preserves. It is also eaten fresh in salads and even cooked on the grill.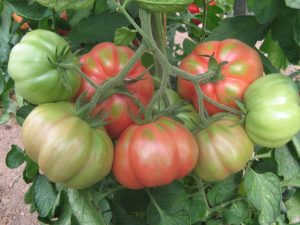 El Costoluto Genoveso is a classic Italian garden tomatoes. It goes back to the nineteenth century. It is a fruit of ribbing style deep red, with very thick skin and very sweet taste. His consumed both fresh and canned, and it is widely used in sauces. It is prized by chefs.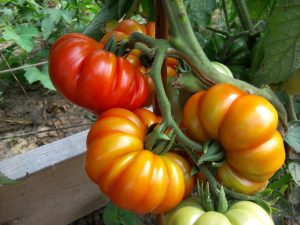 Tomato Monterosa, a hybrid tomato Pera Girona and Costoluto Genoveso, thin-skinned, sweet and traditional flavor with a perfect balance between acidity and sweetness. It has herbaceous and aromatic intensity is fleshy and its pulp is creamy. Despite its thin skin, It has a long shelf life without compromising any of its organoleptic characteristics. Their appearance is unmistakable pro voluptuous presence, but traditional, and its characteristic bright pink.