Econatura, Tiger Turf group, presented at Iberflora 2017 sale and installation of artificial turf services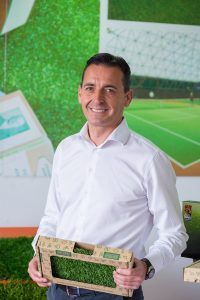 Econatura Design, belonging to the Group Tiger Turf, participate as an exhibitor in the next edition of IBERFLORA presenting his services in sale and installation of artificial turf. It's the first in sale and installation of artificial turf in residential, but it has many types of customers, Since the late, small and large gardeners and nurseries to large companies, and even as the Seville football clubs, the Malaga, the Valencia and Real Madrid footballer, as well as the Spanish Golf federations, Tennis and soccer they trust their products approved and certified.
To carry out their daily activities has four artificial turf equipment; three industrial buildings (4.000 square meters at the Base polygon 2000 lorqui) and a Show Room in showing their latest products to customers. In the Nueva Condomina and Thader shopping centres, the exhibition has more pioneering in Spain.
In the same way, It is one of the few SMEs of the Region of Murcia which aims to work with the latest systems management, control and total computerization of the company, thus developing its growth with a real solid. Econatura does not conform with the advances that have enabled it to consolidate itself as a reference company and continues taking steps forward. It has created its first delegation in Spain, Econatura Levante, and it has trade delegates in all provinces, as well as in countries such as Algeria and Morocco.
Econatura Design emphasizes its leadership in the sale and installation of artificial turf at the national level, at the same time which is positioned in the hand of TigerTurf abroad, the group to which it belongs and which operates on five continents.