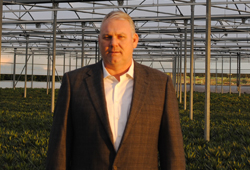 Proposed by the sector, and ratified by FEPEX (the Spanish Federation of Fruits, Vegetables, Flowers and Living Plants Producers and Exporters Associations), Oscar Vicente Calabuig Sanchis has been designated as the new Iberflora Chair.
Manager of the Horticultura Calabuig S.L firm since 2000, and connected with this firm since 1986, where he has occupied several responsible posts, Calabuig has ample professional experience in the green sector.
The new Iberflora Chair has known how to combine his activity at the front of the family business -a firm which produces and commercializes ornamental plants, with a marked exporting vocation – with his responsibilities as an active member of ASFPLANT (Professional Association of Plants, Flowers and Horticultural Technology of the Valencian Community).
He has been a member of this association for 8 years, and has been its Vice-Chair over the last 2 years.
Besides, Oscar Calabuig –born in Alboraya (Valencia) in 1970- has always shown his determined commitment with sectorial activity by actively participating in specialized trade fairs, and by collaborating in various projects and reverse missions which focus on opening up new markets.
His commitment to Iberflora, the International Fair for Plants and Flowers, Technology and Garden DIY, has led him to occupy the post of second Vice-Chair of its Organizing Committee; now he is to be its Chair, and substitutes Vicente Peris Alcayde, who has been the Iberflora Chair for the past four editions.