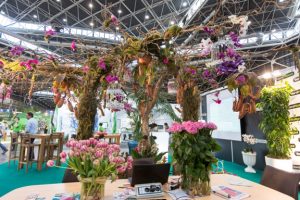 Between 180 and 200 floristas de la comunidad "EL ARTE DE LA FLOR Y SU GENTE" se han unido este año para acudir a Iberflora overhand: workshops, cursos e incluso una rosmelia gigante son algunas de las actividades que los visitantes podrán disfrutar.
This community of florists, que goza de gran popularidad en el sector debido a su activo grupo en la red social Facebook, cuenta a día de hoy con más de 2.000 miembros que todos los días comparten sus conocimientos, habilidades y creaciones, que traerán este año a Iberflora para que todos podamos disfrutar de ello.
During the three-day fair, los floristas llenarán de color la sala Joaquín Rodrigo, en la que impartirán cursos a bajo coste para un máximo de 40 attendees, con una frecuencia de dos cursos diarios.
El programa de los cursos es el siguiente

:
4 October
9:30-12:30: Anxo Rodriguez, Pedro Cladera and Blas bonus, experts in the art of the catalogos, they will be responsible for providing a course on this beautiful discipline.
16:00-19:00: Rosa Moreno, Director of the school of floral art Deflorarts, will give a course on wedding bouquets from a unique technique that is an expert.
5 October
9:30-12:30: Rosa Valls, world champion of hand bouquets, He taught a course on this specialty that you can see some demos on their Youtube Channel.
16:00-19:00: William Laso, the Andalusian School of Floral Art, taught a course on floral decoration for Saints.
Además de los cursos, las floristerías convocadas realizarán una ROSMELIA GIGANTE, una composición a partir de pétalos de rosa de aproximadamente 2 meters en forma de ramo de novia, un espectáculo digno de ver y para el que importantes empresas del sector como Aleia Roses the Opiflor les han cedido género para llevar a cabo esta preciosa hazaña.
The 6 de octubre sobre las 9:30 harán entrega de la Rosmelia y llevarán a cabo una explicación sobre el making-off en el escenario de la Ronda de Floristas.
No doubt, el ambiente en la Ronda de Floristas de Iberflora va a ser increíble gracias, as always, a los floristas que hacen todo ello posible: cursos, demonstrations, actividades y el concurso estrella, the Iberflora Cup of Floral Art (CIAF), harán que los visitantes disfruten al máximo del ambiente florista de Iberflora 2017.