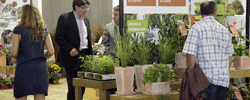 IBERFLORA WILL SHOW HOW TO GROW IN HOUSE BY THE RECREATION OF AN URBAN GARDENING
In order to stimulate demand for products and materials for the care of the gardens at home, Iberflora the contest in its call for 2012 will recreate, within its wide range expository, an organic garden specially designed for urbanites environments.
The International Fair of Plants and Flowers, Technology and Bricojardín ecosostenible recover this proposal has been long in the market with great acceptance by consumers, but today enjoying more popularity than ever as to the organizers of the sample- given the increased interest in healthier formulas leisure and for their development in the home environment.
The exhibition will be conceived as a source of ideas for the implementation of the crop plant in the city of, vegetables either, vegetables or herbs, everything you need to experience the pleasure of consuming products grown with our own hands.
Unlike other similar experiences, advantage in the present environment Iberflora, feria leader in Europe in ornamental, is that the tournament becomes the best reference to learn first hand the latest innovations in tools, materials, fertilizers and substrates, and tables or culture vessels specially designed to experience the garden at home.
The urban orchard Iberflora be exposed during the three days of celebration of the event, to be held in Valencia Fair 3 rd to 5 October of 2012, coinciding with the parallel of the Seventh International Furnishings Fair. Both samples also organized this year jointly the garden lounge.