Raise in Green It's him project specialized in urban garden led by Marta Rosique, a project that will have a presence in Iberflora through the round table in which influencers specialized in the world of the garden will share their experiences online.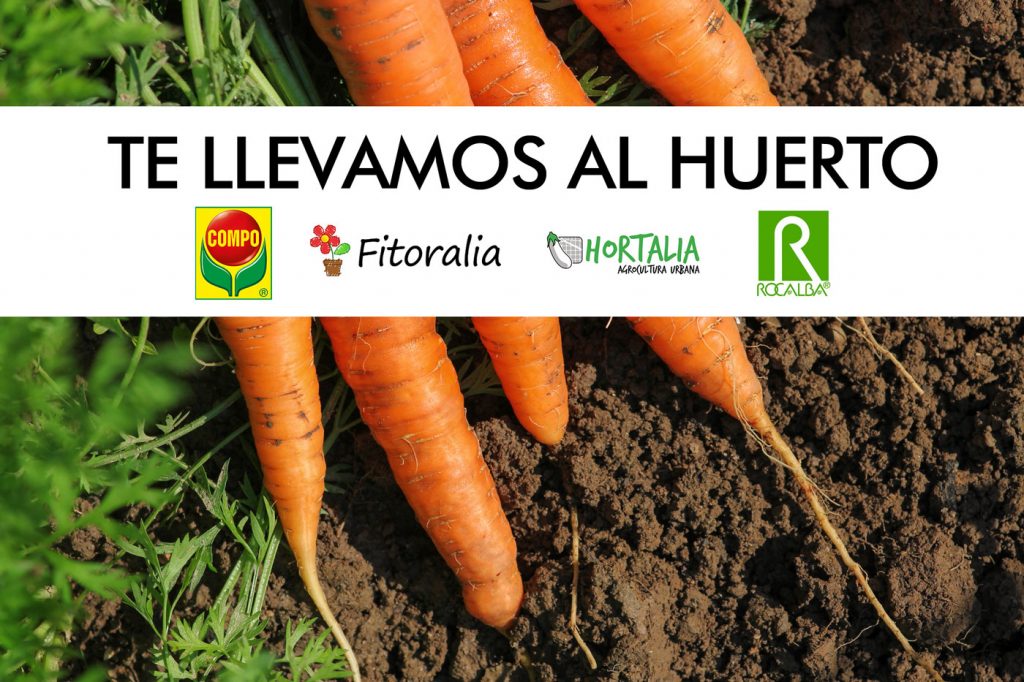 The event will take place during the morning of the 6 of October in the space "We take you to the garden" organized by Iberflora together with leading companies in the garden world such as Compo, Fitoralia, Hortalia and Rocalba, and will be hosted by Ángel Villarino, director of Fitoralia and member of the Organizing Committee of Iberflora.
A little more than a month from the start of the contest, Iberflora has been able to chat with Marta Rosique, influencer participant in the event along with other content creators such as Mylena Ferreira de Orchardx, Ester Casanovas of Picarona Blog, Cé de En20metros Urban Garden, Toni Jardon of Toni's huertina and Javier de Orchard addicts.
In which social networks or ways of communicating do you have a presence?, which of them do you feel most comfortable in?
Instagram, Pinterest and YouTube. The one I spend the most time on is Instagram.
How long ago did you get started seriously with communication, that is, at what point it becomes an important part of your life? What makes you take that step?
For me, networks fulfill a double function. I started with them in 2013, and were a way to share my advances and learnings and in the world of urban agriculture and little by little, as Plantea En Verde was generated and consolidated, there by 2014-2015, I started to take them more seriously. Since they began to be also a dissemination channel of the courses and products I create.
What are or were your referents when Started?
When I started, many of the references he had on urban agriculture exercised much of their communication outside the networks (is that Instagram did not even exist!). Ester here with her blog and had quite a few references in England which was where she lived (James Wong, Alys Fowler...). When I started with Instagram or YouTube, that for me came later, I was interested in accounts that took great care of the image and included illustrations, which was what I saw the most fish in at that time. and the accounts of Mariana Matija or Marina Barrio taught me a barbarity.
Do you recommend someone other than one of your tablemates to follow?, either within the orchard world, or plants, or simply, because you like what he does and how he does it.
Eva Durán on indoor plant themes and Floritismo for flower theme. It seems to me that they create high quality content, enjoyable and accessible to everyone. And both take beautiful photographs.
Do you combine your work in communication in networks and / or internet with others or do you dedicate yourself completely to it?
The communication in networks is part of my work, these together with email marketing are the marketing tools that I use the most for Plante and form a good part of my working hours. Depending on the season, I usually dedicate them in a 20-40% of my work schedule. The rest I dedicate to the creation of contents of the courses and materials of Plantea.
Does it condition you to talk about certain topics the fact that it has more or less repercussion, in the number of visits or likes or you move more the artistic vein?
More than by the likes or the number of visits to get, I focus a lot on generate content that is relevant or useful to the community. In the end I think that this value contributed is what people stay with and what best suits the Plantea project, which is training.. I'm more interested in generating an involved community than getting a lot of followers or a lot of likes.. I never share anything I'm not comfortable with, that's my golden rule.
Talking about topics, just orchard or do you talk about all kinds of plants? And out of the world of plants, can you ever talk about football?, religion, policy, Anything, even if it is tangentially?
I combine quite a bit orchard with indoor and separate plants, I introduce quite a few sustainability topics on my Instagram account especially. First, because I think it is very linked to the subject and second because I take the opportunity to have that speaker to comment on issues that I think are relevant. I don't usually talk about many personal things more for a matter of not being comfortable with it rather than because I think it doesn't fit or doesn't take place.. If I feel like it, I have no problem sharing content "outside the pot", I think to see that behind the accounts there are real people with hobbies, ideas and concrete lives always bring closeness and authenticity.
The followers and attention they require, Questions, feedback..., Do you attend to everything and you have to limit it in some way?
This is an issue that is starting to get out of hand, because I have reached a point where I no longer have time to answer everyone. I try to spend some time each day and one thing that has helped me is to automate answers to questions that are repeated a lot. (I create templates that so I just cut and paste). To compensate, I create direct and Q&A sessions.
Do you think that the pandemic has incorporated new profiles of followers and fans of the world of the garden?
Of course, I think that spending more time at home has made many people look to introduce nature into it and spend more time with their hands stuck in the earth..
You will be part of a round table on orchards and social networks in this next edition of Iberflora, what do you think of the initiative, you've done something similar before.?
I'm delighted, I knew all my tablemates and I am very excited to devirtualize us. I think also, although we are all dedicated to the same sector, there is a lot of diversity and that always means more richness. I have never done a round table of this style and I really want.