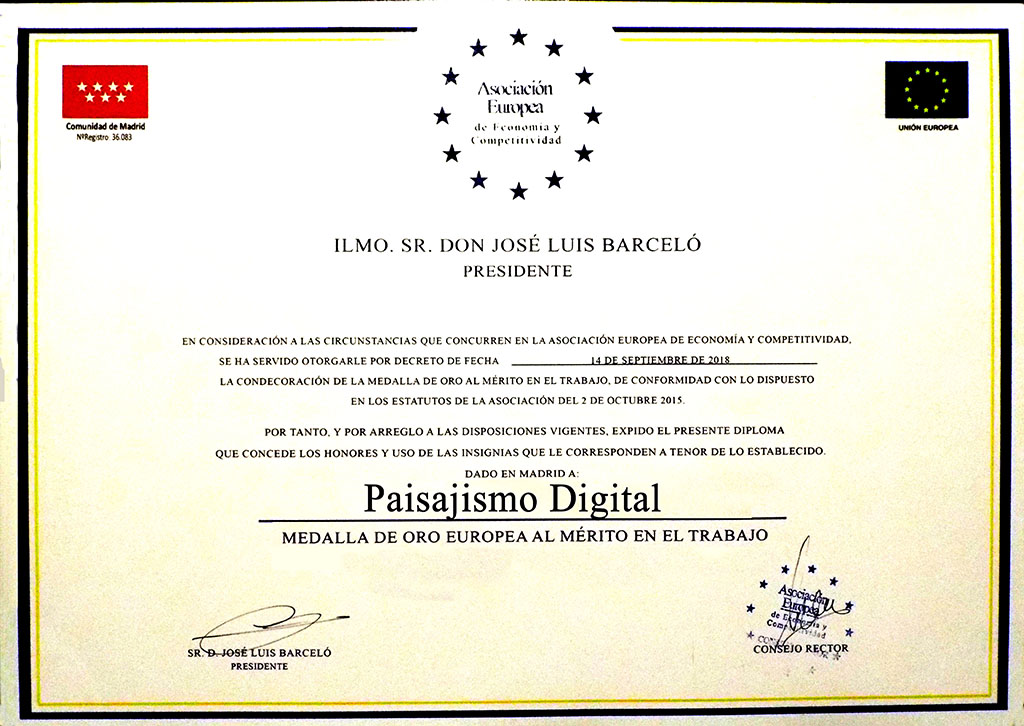 Landscaping Digital receives the European gold medal for merit in work
The European Association of economy and competitiveness (AEDEEC) ha otorgado a Paisajismo Digital SL , the distinguished European gold medal for merit in work 2018 in recognition of their work and business management, in the latter 11 years in the service of design and education.
Creada como organización sin fines de lucro para promover, desarrollar y reconocer la labor individual y corporativa de quienes fomenten el desarrollo empresarial en Europa, la Asociación Europea de Economía y Competitividad "identifica y reconoce la gestión empresarial que estimule el emprendimiento y el crecimiento financiero".
La Medalla de Oro Europea al Mérito en el Trabajo representa el principal galardón otorgado por la Asociación para "reconocer el éxito de las empresas con una trayectoria ejemplar en el ámbito nacional y/o europeo", estimulando las prácticas e iniciativas que apoyan el espíritu y la conciencia empresarial.
Bajo la dirección de Rosana Almuzara Bertolucci, arquitecta UBA y paisajista AEP, Paisajismo Digital es una empresa con sede en Barcelona, España, creada en el año 2006, especializada en la planificación, design, y ejecución de proyectos de arquitectura del paisaje, así como en el modelado fotorrealista en 3D. Moreover, la empresa cuenta con un campus virtual (Escuela de Paisajismo Online) destinada a la formación profesional online orientada a paisajistas, jardineros y estudiantes.
Según la Asociación Europea de Economía y Competitividad, "aquellas empresas y profesionales que reciben este galardón se convierten en modelo y referente en su sector, tanto nacional como internacional". La Asociación cuenta, en su Consejo de Honor, con personalidades como el Ilmo. Sr. Mr. Alejandro Suárez Sánchez-Ocaña, Consejero Delegado del Grupo Gestiona, el Sr. Mr. Enrique Cerezo Torres, empresario y presidente del Club de Fútbol Atlético de Madrid y el Sr. Mr. José Luis Barceló Fernández de la Mora, Editor-Director del diario El Mundo Financiero.
From the computer of Iberflora queremos dar nuestra más sincera enhorabuena por tan merecido reconocimiento a la labor de Paisajismo Digital, una entidad que trabaja día a día para ofrecer servicios integrales de arquitectura del paisaje, con especial atención en la formación online de sus alumnos, promoviendo la ética y responsabilidad laboral, así como las prácticas sustentables en la arquitectura y la jardinería.