From Iberflora we want to extol the cultural value, social and ornamental that the Turia garden has brought to the city of Valencia during its 35 years of existence.
The garden has been chosen as the inaugural proposal of World Design Spotlight within the framework of Valencia World Design Capital 2022
Many things have happened in the Turia garden since in 1979 the old Turia riverbed was definitively approved as a green area and public park, a garden that inaugurated its first section in 1986 and that has seen a few Valencian generations grow up that, along with tourists and visitors, have turned this space into the green heart of the city of Valencia.
Today, from Iberflora, we pay homage to the garden of the old channel that, with 110 hectares of surface, is today one of the largest urban gardens in Europe.
And is that, No doubt, green infrastructure improves the quality of life of citizens, and this is how we promote it during the contest, working with different associations and entities to show, through conferences, exhibitions, activities and talks, that a green infrastructure well managed by professionals brings multiple benefits to urban spaces, and therefore, to its inhabitants.
On the other hand, and how it is to emphasize through the World Design Capital, the Turia garden is also art, culture and social interactions. There are many urban planners and landscapers who have worked to provide the garden, not only of a characteristic ornamental selection and arrangement, if not also from sources, ponds, recreational facilities, cultural and sports that turn the garden into a place that breathes social life.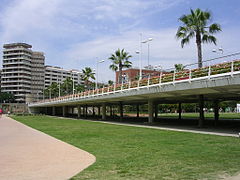 16 garden sections with 18 bridges full of history and many proper names: Ricardo Bofill, Juan de Otegui, Jose Luis Gisbert, Juan Francisco Noguera, Santiago Calatrava, Rafael Rivera, Javier Goerlich and many more, together with organizations, associations and public entities. Almost 10 kilometers of park that many runners, pedestrians and cyclists know from end to end: from the Cabecera Park and the Bioparc, to the City of Arts and Sciences, passing through emblematic spaces such as Gulliver's garden or the Palau de la Música.
Both the Turia garden and Iberflora will be this year stages of the Valencia World Design Capital 2022, and we reserve some surprises about it for the contest, to be held at the facilities of Feria Valencia from 4 rd to 6 October, together with Eurobrico, International Diy Fair, Ecofira, International Fair of Environmental Solutions and Efiaqua, International Fair of Efficient Water Management.