Fitoralia, specialist in organic certified horticultural plants, will be present in Iberflora 2019 in its booth D63 of the Pavilion 4.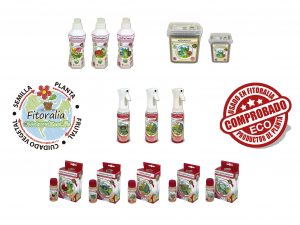 The company constantly incorporates new product lines into its catalog to be the green comprehensive supplier for orchard and garden, And that's why, to its range of plants that includes the widest variety of organic orchard plants, organic aromatic and culinary plants, lively orchard, forest fruits and organic fruit, incorporate all those products necessary to close the circle of organic production, such as seeds, fertilizers and plant health products, all of them certified green.
In Iberfora, Fitoralia will present its new developments for the next campaign:
On the one hand, your Plant Care line, that under the concept #NaturalEcoLife offers liquid and solid organic fertilizers and fertilizers products for eco plant health. The range of eco fertilizers offers different compositions for different crops and growth stages.
The eco health range offers formats in waste preparations 0 for its ready-to-use and concentrated to address the different problems associated with plant enemies to prevent and cover pests, diseases and physiopathies that crops suffer throughout their production cycle.
Moreover, Fitoralia presents exclusively in Iberflora its TriOh collection! and his AirGarden collection, composed of high ornamental value products for use on balconies, terraces and gardens. They are presented in the form of gardeners with handles and hanging pots with tomato plants, Peppers, Eggplant, strawberries and spices with selected varieties of small fruits and particular growth.
The TriOh collection! has the feature of always combining three different varieties in the same gardener. They are MPS certified productions.
Don't miss the latest news from Fitoralia in #Iberflora19!