Pedralbes horticultural, wholesalers in gardening materials with a track record of more than 70 years, will be present in Iberflora, International Fair of Plants and Flowers, Landscaping, Technology and DIY Garden, held from 1 rd to 3 th of October at Feria Valencia.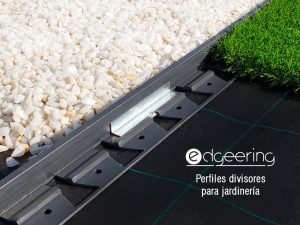 Pedralbes horticulturaal began by giving gardening service to the residential area of the Pedralbes district of Barcelona, but its expansion was imminent, and they soon ended up performing gardening jobs across the national geography.
Today, Pedralbes Horticultural Market sells a wide variety of materials for the construction and maintenance of gardens, emphasizing products that are at the forefront of design, without neglecting sustainability.
In this edition of Iberflora will present the brands that market, as Edgeering, the new brand of divider profiles for garden, made up of exclusive models, designed to multiply design possibilities and save the professional, ensuring a durable and elegant finish.
Between them, highlights the Flex profile, a PVC profile in the form of an "L", having 4 cm high, 250 cm long and so much flexibility that it allows even to close it on itself. The Flexibility, ease of placement and good finishes, along with a very competitive price, make it an ideal complement to design gardens, either to separate artificial turf or decorative arids.
Pedralbes horticulturaal will also present its Savage Deluxe artificial turf, a European artificial turf with great realism. With 7 yarn colors and 50 mm in height, it's a surprising lawn that stands out for its naturalness.
Like the other Turfted models presented by the company, Is made in Europe with materials 100% European sit-in and has 10 years warranty.
Visit his booth A63 Pavilion 4 and discover its entire range of gardening products.