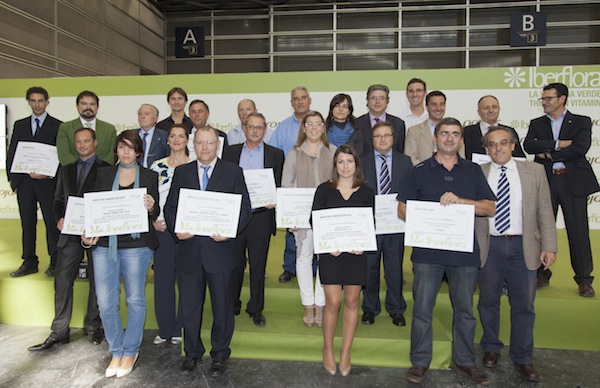 Innovation has once again been the main feature of the IBERFLORA closure ceremony with the Iberflora Innovation Awards, which have been presented for five years now. These Iberflora Awards honour the innovative efforts made by the exhibitors and make known the most relevant products on show during the trade fair.
The Iberflora Chair, Vicente Peris Alcayde, and Vicechairs Joan Roig and Pedro López, have presented the representatives of the various firms with their award from each category. In the Plant Category, the awarded product was Lavandalula Angustifolia "Momparler" of Momparler Viveros, a new lavender variety. The Flower Category was declared void, while the Inert Materials Category award went to SAT No. 299 San Ramón for the Bonora product, a completely organic fertilizer prepared from cow manure which, after a digestion process in a biogas plant, is transformed into a fertilizer that does not smell and is rich in organic matter.
The Vegtrug growth table, indicated especially for growing plants and vegetables in very small spaces, created by Hags Swelek, S.A., has received the award corresponding to the Technology Category. Moreover, "Vertical Farming" by Midori has been presented with the Garden Category award. This is an urban kitchen garden which uses water and nutrients to produce plants by a hydroponic system.
The Imor Dogs Park, by Manuel Obrero Ruiz, S.A., received the Pets Complements and Accessories Category Award. The Sustainability Award went to Sansan Prodesign for its product Pherosan Rhynchophorus, indicated for treating Red Palm Weevils. Finally, the Landscaping Category Award was presented to the firm Masecor for its decorative lacquered gabions which enable highly aesthetical walls to be built.
The IBERFLORA Awards
For the first time this year, there have been IBERFLORA awards to acknowledge the best presence and participation in the trade fair of the exhibitors, as well as their link with the event. The awards have been selected by the 2012 IBERFLORA visitors themselves.
– Best image of a firm at the trade fair: Bayer Garden.
– Best Professional Career: Salvador Magraner (Vivercid).
– Best image of an international firm: Piante Faro.
– Best international scope: Viverpal.
– Best participation of a joint project: Productos Flower and Corma.
– Best sustainability initiative to Marc Grañen Roca for its phytokinetic product, gardened roofs for urban buses.
– Best training proposal: Semillas Fitó.
– Best diffusion of the trade fair in the Plant Sector: Viveros Las Cunas.
– Best diffusion of the trade fair in the Flower Sector: Verdnatura.
– Best diffusion of the trade fair in the Garden Sector: Jardinarium.
– Best diffusion of the trade fair in the Pets Sector: Royal Canin.