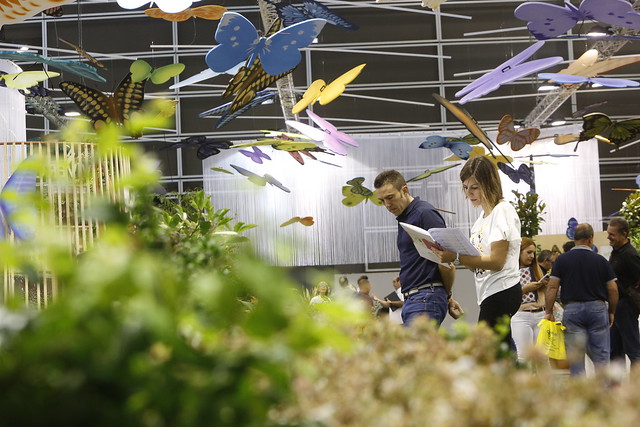 Iberflora expands its offer directed to municipalities and collective
The contest is held in conjunction with Efiaqua and Ecofira of the 1 rd to 3 th of October at Feria Valencia, Thus completes the Iberflora showcase, It will link product and service.
Iberflora It announces an important novelty for its next edition: two trade fairs, with which it shares many synergies will join the contest, customers and common interests. They are the international exhibition of environmental solutions, Ecofira, and the international competition for the efficient management of the water, Efiaqua. These two events have moved forward its next edition to the 1 rd to 3 October to be held jointly with the international exhibition of plant and flower, Landscaping, Technology and DIY Garden, in order to expand the environmental vision of the call and thus complete the offer of Ecofira and Efiaqua.
The confluence of these three fairs will connect product and service, gardening and landscaping, sustainable management, electric mobility and efficient water treatment, among other ones . Namely, solutions for the 'smart cities'. Moreover, the celebration next Iberflora arouses special interest in Efiaqua sectors related to the systems and management of irrigation systems, innovation and agricultural technology.
Thanks to the joint celebration of these three fairs, will expand the expositive supply and visitors, that it will be distributed in four pavilions difficult to match in any other space showcase. Moreover, an ambitious Conference with powerful content that bring together issues related to the three fairs will be held, as well as joint activities.
Thereby, Feria Valencia offers value and commitment to promote a call in which established synergies around everything concerning the field of smart urban services and sustainability in the cities, But while preserving each event its own characteristics.
"One of the fundamental pillars of the Smart Cities are plants. What we call the Green contract. But it has many more legs: The water, energy, environmental efficiency... All are essential in the creation of the Smart Cities, that is where we are heading. Collaborate with Ecofira and Efiaqua seems fundamental to us", says Oscar Calabuig, President of Iberflora.
For his part, for the director of Ecofira and Efiaqua, Stephen Hill, the confluence with Iberflora "complete and adds Ecofira and Efiqua offer and expands environmental vision and its showcase of services companies, water treatment and waste management with a range of plant and gardening that complete the services that give our exhibitors in the urban environment".