Iberflora It will premiere this year a live TV program to broadcast live everything that happens during the three days of competition.
The program, called Direct Iberflora, will cover, during the fair, the most important parallel activities, as the Cup Floral Art Iberflora, "La Noche + Green", The 6th International Symposium of landscaping and Arboriculture, the new space Iberflora Labs and presentations of the space Tree Climbers, among others are presented.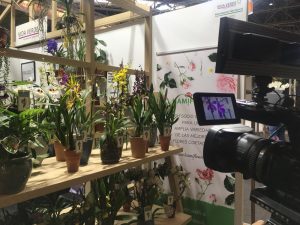 In the same way, the team of reporters of direct Iberflora will tour the pavilions by feeling the atmosphere of the fair, conducting various interviews both personalities of the green industry in the dish, located in Pavilion 4, as exhibitors and visitors on stands and corridors of the fairgrounds.
All direct Iberflora programming can be followed from the own exhibition through different screens scattered throughout the different pavilions, and also from outside of the fair through Youtube. The production of the program direct Iberflora, It will be borne by the team of journalists, cameras and technicians of Guiaverde.com.
Sponsors
Direct Iberflora is the ideal place to give maximum visibility to the exhibiting companies, and therefore the fair shopping team offers several types of sponsorship. First of all, companies have the opportunity to appear on all screens distributed by pavilions through signage at the top of the same.
Second, through the Basic sponsorship, companies may issue an advertising banner, with an indication of the location of your stand, a minimum of three times a day in direct Iberflora programming during the three days of fair.
Lastly, and by sponsoring Plus, In addition to the inclusion of the banner ad, companies may issue their corporate video, which will be a minimum of three times a day each.