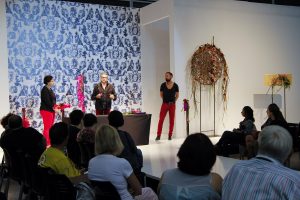 IBERFLORA is working hard on its next edition, not only from the business viewpoint but also in the endless parallel activities that are being organised to complement the event thanks to the collaboration of the most representative associations and sectorial groups. The Spanish Floral Art Schools play a very prominent part among the latter and once again will do their best for the 44th edition of the event, which will take place from 30th September to 2nd October.
Indeed, together with the IBERFLORA team the Spanish schools have begun to design some of the proposals that will be developed during the forthcoming months to be implemented during the fair.
Our intention is to initiate the activities of the IBERFLORA opening day with the organisation of floral art workshops in which students from the whole of Spain will take part. The resulting work will be used for the activities of the second day of the fair, which will be an original walkway on which the organisation is working and which will include a social commitment.
The holding of various flower competitions that are sure to surprise the visitor has likewise been planned. IBERFLORA is also working on the creation of a thematic area that will with all likelihood be devoted to the Flowers of Ecuador.
These are a but a few of the possible options that will take shape in the following weeks. As the director of the fair Miguel Bixquert affirms, "the Florists' Round will once again be one of the main IBERFLORA attractions thanks to the participation of the various firms and the collaboration of groups such as the floral art schools, which to us are essential".